After logging in to your SmartClass HUB and selecting a class, the navigation panel will appear. At this point, you are prompted to choose between four (4) options.

Authored by: Fabian Klein
Director of Teacher Support & Educational Technology
Creation date: 2019-08-19
Revision date: 2023-01-30
This is the navigation panel you will see.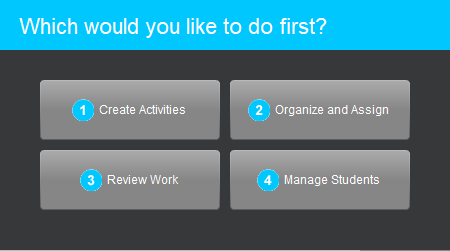 Choose from the following four (4) options:
Create Activities – Use this to import media files (e.g. a photo), import activities (e.g. a multiple-choice quiz), or import complete courses (e.g. Let's Talk! English – Level B2). Also, teachers use this option to build their own customized activities.
Organize and Assign – Use this to organize activities into folders (called modules) that can be assigned to students.
Review Work – Once activities have been assigned to students, use this option to review and grade student work and leave feedback for individual students.
Manage Students – TUse this to build the student roster. This is normally done by importing a list of students, but can also be used to add or delete individual students who are joining or leaving the class partway through the term. You can also send your students an invite class link.