This release addresses the following broad topics: New product nomenclature - SmartClass HUB (formerly MAD), SmartClass LIVE (formerly LAD); New HUB graphical user interface; Functional improvements for SmartClass HUB

By Veronika Czimmermann
Date of Creation: 2020-07-18
Last Update: 2023-02-15
Product Nomenclature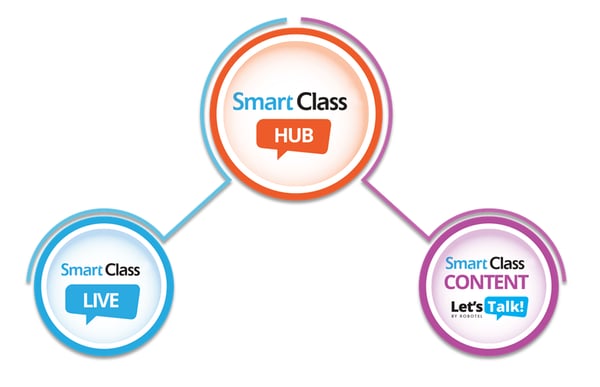 SmartClass Release 5.0 introduces some name changes for the main two applications:
SmartClass HUB – The HUB (formerly MAD) is the application you will use to manage self-study activities and review all student responses.
SmartClass LIVE – The LIVE (formerly LAD) is the application you will use to manage activities with your students in a classroom setting.
New Application Icons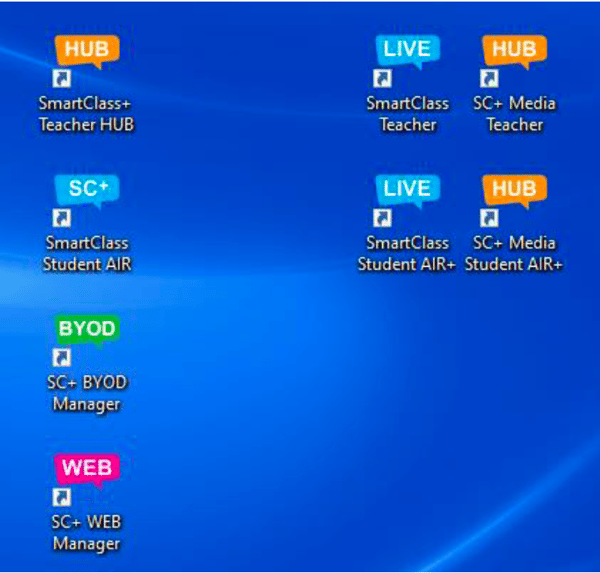 All application icons have been updated as shown above. For the student applications, if there is a single icon, we use the "SC" label. If there are two separate icons, these are shown as "LIVE" and "HUB".
SmartClass HUB – New Graphical User Interface (UX) – Phase 1
We have been working on a new UX for the SC HUB application. The changes are significant both in terms of improved graphics and improved functionality – as our trainers understand better than anyone the little issues that confuse system users.
It was not feasible to implement all of the target changes within a single release without stretching the release dates more than they already have been. Therefore, SC 5.0 includes Phase 1 of the UX changes with additional phases to follow in subsequent SC releases.
The new UX is not just a pretty face: It enables both novice and experienced users to navigate quickly and efficiently through the entire process of building activities, organizing & assigning them, following up on student responses and leaving feedback.
Shown below is the new My Courses & Classes dashboard where each token represents a class.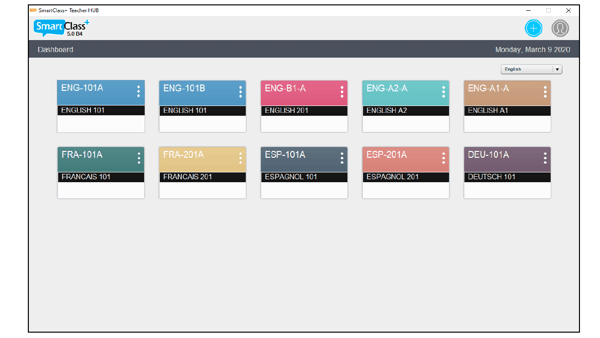 Compact View
To minimize the amount of scrolling that teachers need to do, SC 5.0 includes Compact View – similar to the Windows Explorer "details" view – where you can concurrently view much more material on a single screen.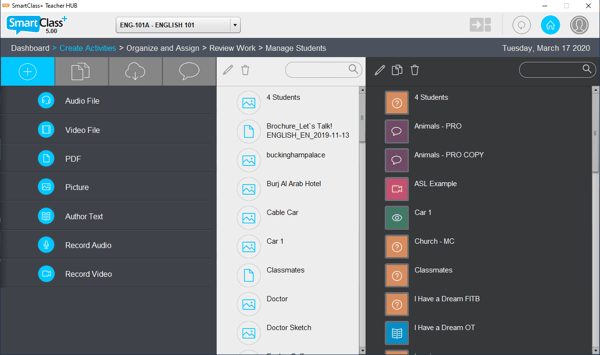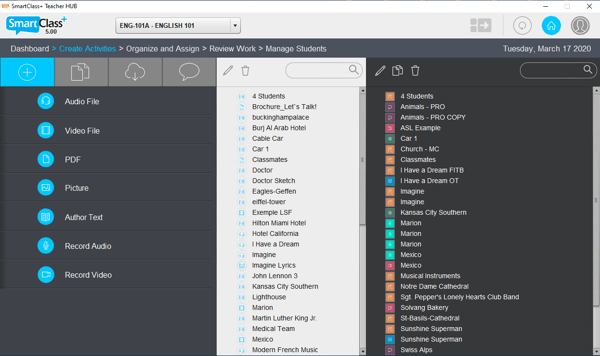 Folders Replace Modules
In SC 5.0, our older "Modules" have become "Folders". Functionally, the two a very similar but the new Folders offer the added benefit that they can be Open – to view the Activities within – or Closed. This is another step in reducing visual clutter and enabling teachers to focus on the contents of only the specific folder(s) that are relevant at any time. Again, this capability is modeled after Windows Explorer's concept of folders.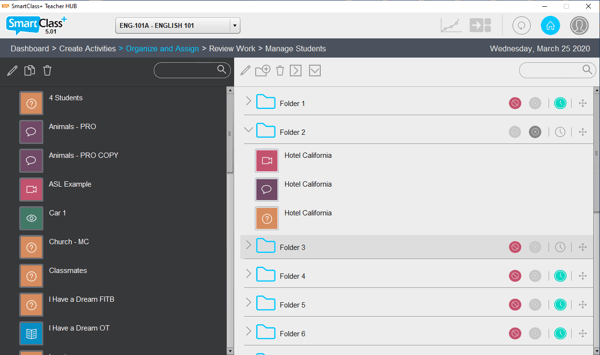 Duplicate Activity Function

There is a new Duplicate Activity function that enables teachers to make a copy of any Activity. This will become increasingly important as we begin implementing the UX Phase 2 capabilities.
Pronunciation Activity Upgrades
There are three improvements that have been made to our Pronunciation activities:
1. Activity-Level Language Selection – It is now possible to change the language/region being used for text-to-speech and speech recognition directly within an activity

This enables teachers and publishers, who are using SmartClass to electronically distribute their materials, to duplicate activities and configure one activity for American English and another for British English.
2. No Overlap of Phrases and Pronunciation Controls – In the student view, there is now no overlap between the pronunciation controls and the phrases to be pronounced. Students have a clear view.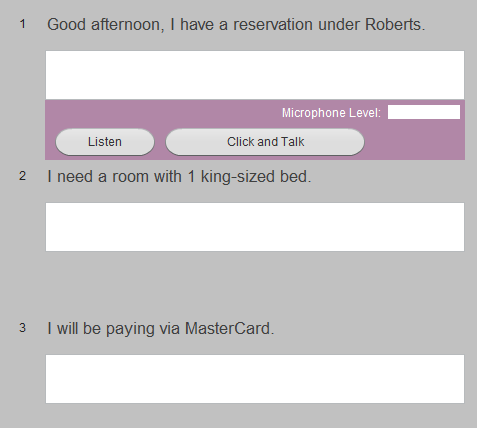 3. Improved Text-To-Speech Audio Quality – For selected languages (e.g. English) the IBM/Watson TTS service has been replaced by its Google equivalent. This significantly improves the model speaker quality.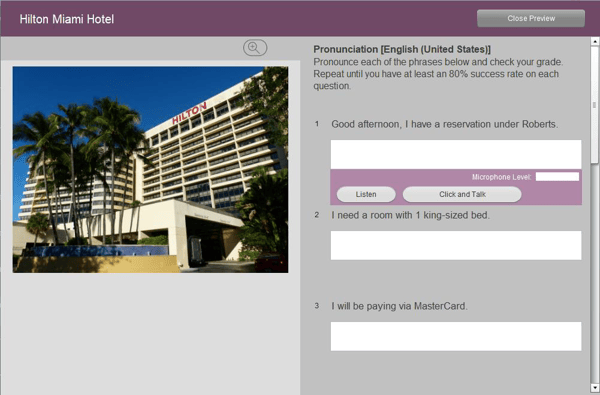 Question & Answer Activity – Flip PDF
Pages In the Question & Answer Activity, the teacher can now use a multi-page PDF stimulus and have the pages automatically flip as the student progresses from question to question.

Shared Access to Local LTE Resources for All Teachers
For schools that want to take advantage of this new capability, all of the SC HUB applications being used by all teachers must be upgraded to revision 5.02. You cannot be running a mix of 5.02 and pre-5.02 applications. Similarly, if you are using the BYOD Manager and/or the WEB Manager options, these should be upgraded to release 5.02 The
SC HUB software has been updated to retain a cache of Let's Talk! English resources (media files) in the local database to enhance the speed of downloading LTE courses.
When LTE materials have been cached, the download time for LTE courses is reduced to approximately 1 second / activity. For our largest course, LTE B2, that has just under 900 activities, it therefore takes about 900 seconds (15 minutes) to complete the download.
(Note that previously, it was taking roughly 45 minutes to download this course – and all teachers had to independently perform this download)
• New SC Installations – It is possible to install a new database that has a prepopulated cache with the resources from all four of our LTE courses, (A1, A2, B1 and B2). (A unique SmartClass-Server utility is available to support this option. SmartClass-LTE-ServerSetup-Version-502-R2.exe)
• Existing SC Installations – All teachers must upgrade to SC HUB release 5.02 to support the caching provision for LTE. Each of the LTE courses must be downloaded completely by one teacher in order to add the corresponding resources to the cache. The SC+ HUB software will cache these resources so that additional teachers will benefit from the accelerated course download speed.
Improved Random Pairing Algorithm
SmartClass LIVE now has an improved Random Pairing algorithm that provides a much higher degree of "randomness".
Student Class & Assignment Navigation
The Student's view of classes remains as shown in the image below in the Home Page view:

When a student chooses a class, then the assignments for that class are available: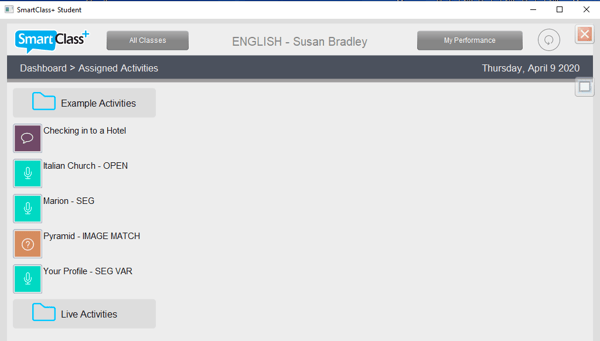 Note that the new All Classes button is used to return to the Home Page view.
SmartClass Student – Ultra-High-Resolution Screens
SC 5.0 now supports ultra-high iPhone Screen resolutions.
SmartClass Student – Smart Zoom
Previously, we had taken the student user interface originally designed for Windows screens, (e.g. 14" to 24" in size), and physically scaled it down to fit on the much smaller smartphone screens. This makes it difficult to both view and select items which are greatly reduced in size.
Smart Zoom addresses these issues, by giving users a simple mechanism to focus (e.g. zoom in) on a portion of the display – stimulus or response, so that a particular area of interest can be expanded in size.