There are four different ways in which you can manage teacher accounts: New Teacher, Edit Teacher, Hide Teacher and Manage teacher
By Melissa Arndt
Date of Creation: 2022-11-11
Last Update: 2023-02-15
There are four different ways to manage teacher accounts:
New Teacher
Edit Teacher
Hide Teacher
Manage Teacher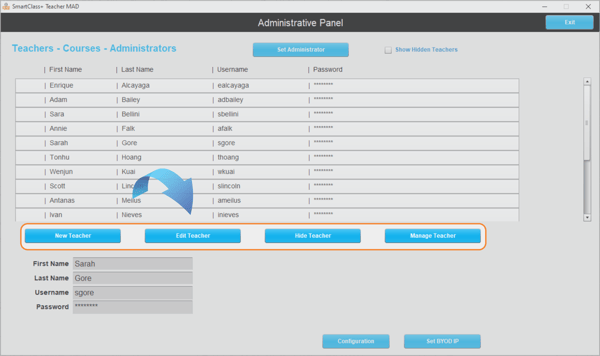 Note: the Manage Teacher button does not appear unless the Administrator account has been changed from the default, with the "Set Administrator" button.
Edit Teacher
In a situation such as a maternity leave, where a replacement teacher is required for an extended period of time to replace an existing teacher, you can edit the account by first highlighting it, and then clicking on the Edit Teacher button. Enter the new parameters in the fields in the lower-left of the screen.
Hide Teacher
In a situation where a teacher has left the school but you wish to retain their records for some period of time, you can hide the account by first highlighting it, and then clicking on the Hide Teacher button.
To view hidden accounts, just check the Show Hidden Teachers box.

Manage Teacher
Some schools have a lab manager position, where a dedicated person is assigned to manage the language lab and assist teachers in the creation of classes and the preparation and assignment of student activities. The lab manager can be assigned as the administrator, and can then access teacher accounts by first highlighting the teacher, and then clicking on the Manage Teacher button.
In an LDAP environment, the lab manager does not have access to the teachers' passwords through SmartClass.