It's the end of the school year, and it is time for SmartClass HUB clean-up. The focus is to prepare your HUB for the next school year.

By Fabian Klein
Date of Creation: 2022-10-13
Last Update: 2023-02-15
What needs to be done:
Delete students from your classes that you know will not be returning and need access to the SmartClass HUB. This will free up student licenses needed for the following school year.
You can delete the students 1 by 1:


OR delete all the students from 1 class:




Return activities that may have been moved out of a folder to keep your HUB organized



Delete any special classes/courses that you created specific to the year, if you don't think you will need them next year.


Un-assign the folders

within each class/course to clear out old, not needed student work.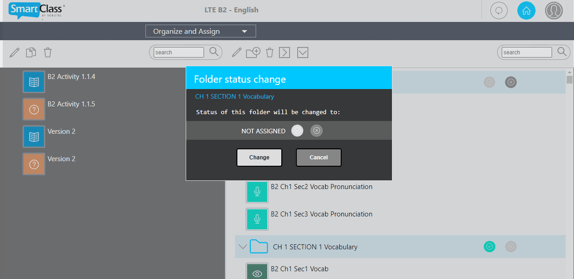 At the beginning of the next school year, you will just need to create any additional classes/courses (remember, if the course name is the same as another class, the content will be shared), download content, and invite your students. Otherwise, keep the classes/courses you have created with the already downloaded content and adjustments to activities you have made, and register/invite your new students to those classes/courses.
Something to keep in mind: You will not have access to student log-in information from the previous year when used with a different teacher if they forgot their password. For this reason, it is recommended to have a set structure for all logins and passwords so there is no confusion year after year.
Lastly, make sure you have a valid Software Maintenance Agreement (SMA) with us.
The objective of our Software Maintenance Agreement is to ensure that clients have uninterrupted access to service & support, to cloud services (AI & server hosting), to updates driven by OS platforms, and to new capabilities provided for educators. If you want to find out more about our SMA click here.
If you need to upgrade, renew your SMA, or buy additional licenses for your students, feel free to contact your local product expert directly.