Certain system configuration parameters are managed from HUB administrator page

By Gerry Sullivan
Date of Creation: 2019-11-23
Last Update: 2023-02-17
To access the administrator page, launch the SC Media Teacher by clicking on this icon:
OR
Administrator Login
1- Click on Administrator Login: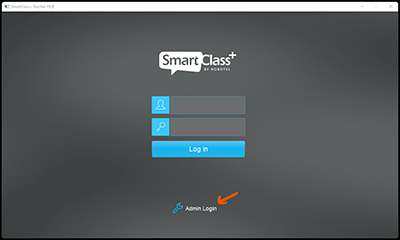 2- A new window will prompt you to fill the Username and the Password fields for the administrator. Note that a blue wrench will indicate that you are logging in as the administrator.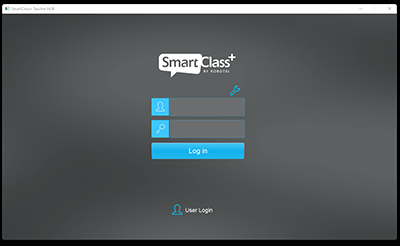 If you have lost the default administrator credentials or the new administrator credentials, please Contact us
After logging in you will see this window: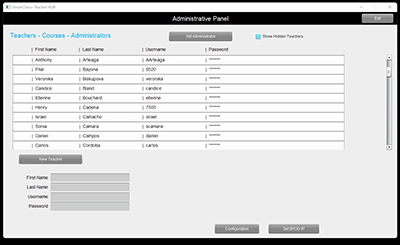 The HUB Administrative Panel is used to manage the following items:
Manage Teacher Accounts:
Creating or modifying Teacher accounts.
Hiding Teacher accounts.
Configuration button:
Configuring ADPCM compression for audio intercom (LIVE) and audio recordings (LIVE & HUB).
Configuring LDAP/LDAPS directory support.
Importing TCCS (Teacher-Course-Class-Students) CSV files (non-cloud database only).
Slowdown and Fast Playback.
Set BYOD IP button:
If the SmartClass System includes a BYOD manager, the IP for the server hosting it must be entered here.