AVG Anti-Virus, (Anti Virus Guard), is an antivirus software developed by the Czech company AVG Technologies, available for Windows, Linux, Android, iOS and Windows Phone operating systems, among others.

By Fernando Solórzano
Date of Creation: 2019-11-24
Last Update: 2023-02-21
According to AVG Technologies, more than 80 million users have AVG Antivirus protection, including users of the Free Edition. On April 24, 2008, AVG launched the AVG Free Edition 8.0 Antivirus.
The new program added some new features - a combined Antivirus and Anti-Spyware protection engine, LinkScanner Search-Shield with secure Internet browsing, plus the AVG Safe Browsing Toolbar - which was before only available in commercial AVG versions.
If you install this Anti-virus, probably you will receive messages like this: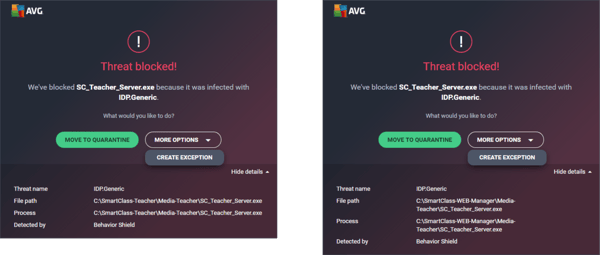 So, in order to avoid problems with this anti-virus, you just need to click on the "More Options" button; then on "Create Exception" and you will be ready to use SmartClass.
But, due to the fact that antivirus are a type of software that is updated with a very high frequency, its is recommended to add all the .EXE files related to SmartClass ( see this article) to the File exception list, as is shown below: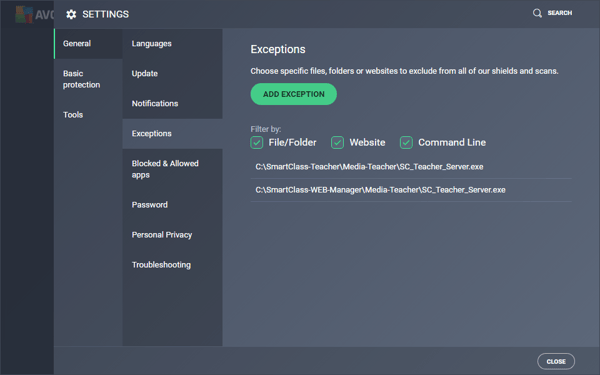 To do that, first you need to click on "Menu" Tab, and select the first one (Settings). Then on the General Tab, select "Exceptions" and click on the "Add Exception" button.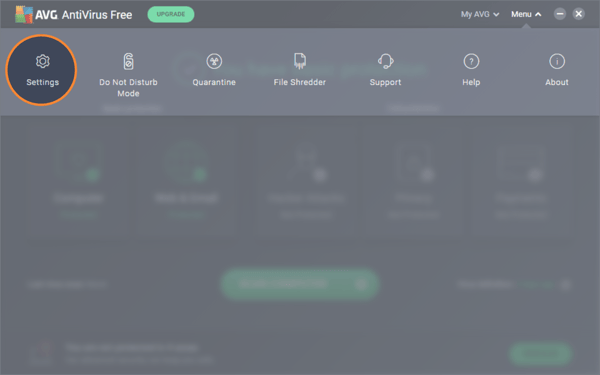 Note: It is possible that this Antivirus, at some point, may send you this kind of alert: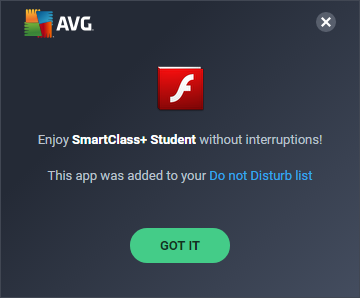 Do not worry, this means that, while you are using the SmarClass App, and nothing will interrupt your class.