The SmartClass system can optionally be equipped with a hardware-based audio intercom module.

By Gerry Sullivan
Date of Creation: 2020-02-02
Last Update: 2023-02-17
You can see a block diagram of the intercom module: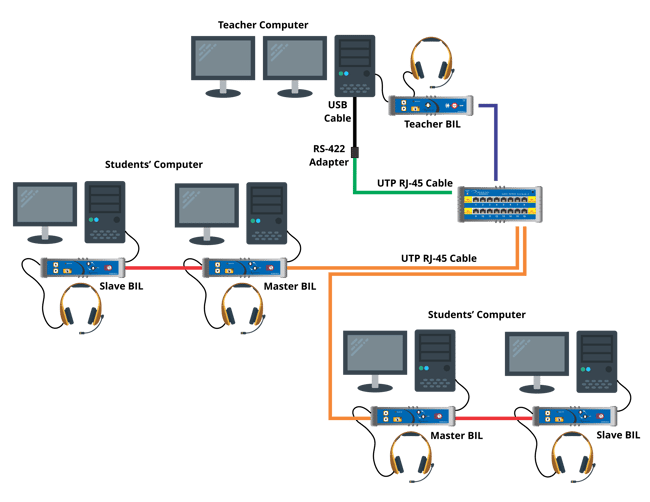 The SmartClass Hardware-based Audio Intercom Module comprises a set of appliances that allow you to physically separate your internal language lab audio communications from your data network. This dedicated audio link improves not only the quality of the audio communications but by off-loading audio traffic from your data network, also the performance of your data network.
In its basic configuration, there is three (3) main devices that composed the system: The Audio Matrix, The Teacher Audio Mixer and The Student Audio Mixer (Both also called BIL2)
The Audio Matrix (SC2500 AM-IL2)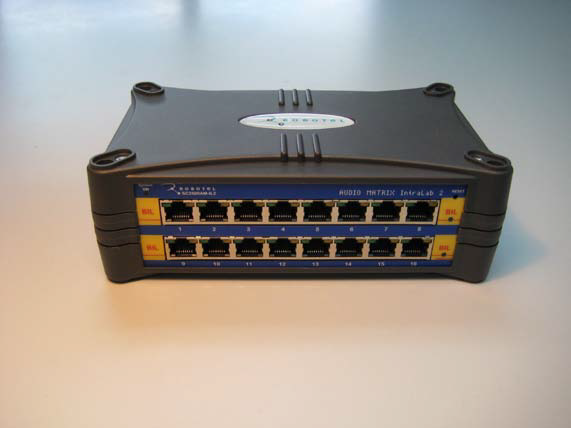 This Device is the core of the audio communications network. The Audio Matrix connects directly to the User Audio Interfaces, (SC2500 BIL) via standard CAT-5 or CAT-6 cabling. The 16 front panel connectors on the Audio Matrix are used to connect to master BIL units, (which can be linked in a daisy-chain fashion with corresponding slave BIL units).
Each connector supports two -(2) separate audio channels, so there are a total of 32 stations supported with a single Audio Matrix. Matrices can be stacked to expand to 64 seats.
The Teacher and Student Audio Mixers (SC2500 BIL2-T & SC2500 BIL2-S)
The newest user audio mixer is generically known as the "BIL". There are two versions
of this interface, the SC2500 BIL2-S (student) and the SC2500 BIL2-T (teacher). All
BIL2 units are remotely powered from the AM-IL2 audio matrix.

Teacher Audio Mixer Student Audio Mixer
On the rear panel of the SC2500 BIL2-S the leftmost RJ-45 connector, (Audio-Link), is
used to connect to the Audio Matrix. This connector is labeled as "IN". A second RJ-
45 connector is used to connect with a slave SC2500 BIL2S.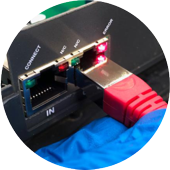 Note: If by mistake, you connect the UTP cable from the Audio matrix to a BIL on the rightmost RJ-45 connector, a red light over this will turn on indicating a wiring ERROR.
This connector is used only in the case of connecting another BIL2-S in slave mode