SmartClass training is not just another training but the doorway into the tool that will make teaching and learning another language engaging and personal for you and your students.
By Melissa Arndt
Date of Creation: 2023-08-06
Last Update: 2023-08-06
During the training sessions, you not only learn about the SmartClass platform but will get excited and inspired for all that you can do to motivate your students and differentiate instruction to meet the needs of each individual learner.
Why is it important?
Training is important as each session is tailored to your specific teaching and learning environment. This ensures that you feel confident and supported from the very beginning.
How does it work?
Once your account is created, you will receive an email that summarizes your account information and gives you access to your SmartClass username, password, and teacher and student links. At the bottom, you will have guidance on choosing one person to be the account administrator/coordinator who will then register teachers and schedule the training session.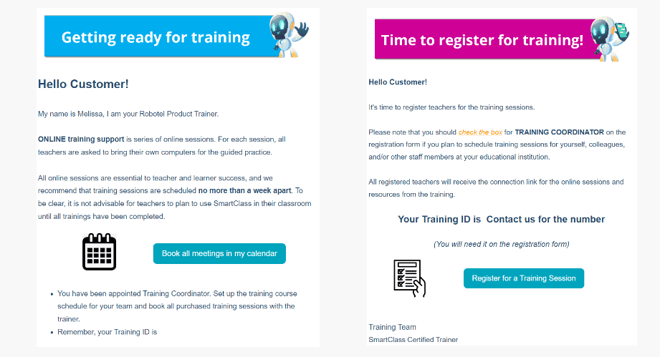 Here is what to expect:
TRAINING 1 / FAMILIARIZATION AND CLASS SET-UP (1 HR)
In Training 1, you will learn what sets SmartClass apart from other platforms, about the SmartClass Hub with its variety of activity templates, how to create classes, and register your students.
For this reason, it is important that in preparation for the first training that you have successfully logged into the Hub using your school server information and your personal log-in credentials. Since the training includes time for guided practice, it is also important that you attend with your own computer. 10 minutes before the scheduled session you will receive the ONLINE connection link. You can be connected from your own computer – from anywhere.
TRAINING 2 / CONTENT (1HR)
This session is a deeper discussion of the SmartClass Teacher Hub. We dive into the structure of the SC content and the connection to the Hub.
With SmartClass Hub you can create your own interactive activities and differentiate SmartClass content to the needs of your students. There are altogether 6 categories with different activity templates. The categories are Viewing, Writing, Quizzes, Speaking, Video, and Pronunciation.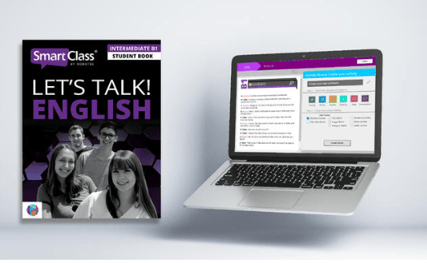 TRAINING 3 / STUDENT-FOCUSED SESSION STUDENT HOW-TO (1 HR)
This session is about your experience so far and learning about grading, feedback, and student progress monitoring.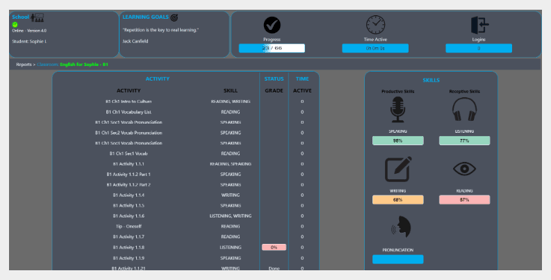 You have done the setup of activities, but now you need to equip your students with training on how to complete different activity types, so they can be successful.
SmartClass Live Training
For traditional language lab settings, we offer training on our SmartClass Live solution. The first training begins by learning about classroom and student management and exploring the five options of the platform: Teacher/Student Presentation, Monitor Students, Pairing/Grouping, Launch a Hub Activity, and Live Testing. Additional training sessions dive deeper into the recording functions and other teacher controls.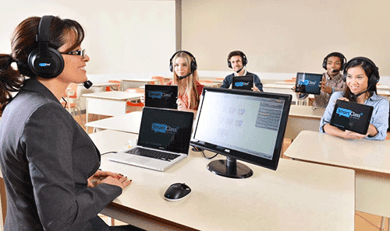 Once training is complete, you are ready to begin using the SmartClass platform with your students. Our Customer Success Team is always here to help with any issues with technology and our trainers are always happy to help with any questions or support needed to achieve success. You will receive emails throughout the year to check in and survey your feelings about your experience. Your feedback is important to us as it informs us of your needs and allows us to provide you and your students with a positive and rewarding experience.